Description

Protect yourself and your family
and put your information back under your control.

Here's How Family Organizer Plus Works.
Get all these features in one app!

Contacts


(separate family and

trusted

providers from friends and acquaintances)
Organize relationships into simple, helpful groups like immediate family, relatives, friends,
and trusted providers, e.g., teachers, accountants, lawyers, and healthcare workers.
Authorize and exchange confidential information with trusted providers, one-to-one.
1-Calendar Scheduling


Never miss another important event.



Link and combine individual calendars for everyone in your immediate family from Google and iCloud into Family Organizer Plus
to improve family coordination and avoid scheduling conflicts. Never miss important events.
Automatically schedule follow-up phone calls with others and appointments with trusted providers. Receive reminders.
Private Chat


What's in the family, stays in the family.
No more eavesdropping or unintended public exposure of private matters.
Confidentially share private and personal information with relatives and trusted providers using advanced encryption technologies and new 5G security protocols.
Relative-to-relative, Person-to-Provider, and Person-to-Entire family chatting.  [Secure video conferencing in Q42021].
Social Media Monitoring


Restore Your Parental Rights
See the feeds without the need for "friending" the kids online, and protect them from online abuse,
unwanted online tracking, and data mining on (and by) social media platforms.
Employ best parenting practices for this connected age and raise digitally responsible children like you deems fit.
Have the information needed to intervene and avoid the all-to-common activities online that lead to depression and worse consequences.
Secure Recordkeeping
It's Your Data. Own It!
Break the cycle of data breaches by hackers and unethical insiders attacking centralized systems to steal your information.
Family Organizer Plus employs a decentralized approach using multiple private blockchains to store and control access to your family's private records.
From documents to audio and video clips, you own these records, maintaining these on your cloud-based storage area out of reach of thieves, fire, and water damage,
not to mention "Big Tech" examining and exploiting your data.
When necessary, simply grant permission or reject requests from others, specifically trusted providers you know like teachers, lawyers, healthcare providers, and more. 
Combines useful features with advanced and emerging technologies
that ensure your privacy, security, and peace of mind
when it comes to your family's online lifestyle and habits.
Family Organizer Plus is the world's first safe, secure, social platform
for families and every household.
Designed with an eye on emerging data ownership laws,
5G/6G wireless technologies, and blockchain architecture,
we're committed to your data ownership rights.
It's YOUR Data. Own It!
Unlike other personal organizing apps that don't integrate well,
exclude robust security, and offer relatively few features for free,
you won't get bombarded with ads upon ads,
charged fees to remove these annoyances, or to purchase add-ons.
Our business model for Family Organizer Plus is based on security, integrity, and
the platform's value in ending the plague of data breaches,
namely central data warehouses controlled by third-parties.
Thus, our mantra, "It's YOUR Data.  Own It!"
Affordably priced far below existing products,
Family Organizer Plus is the first platform designed
from the start around a more secure Internet based on 5G wireless
and blockchain technologies that give you unprecedented
control over all of the digital information you are entitled to own.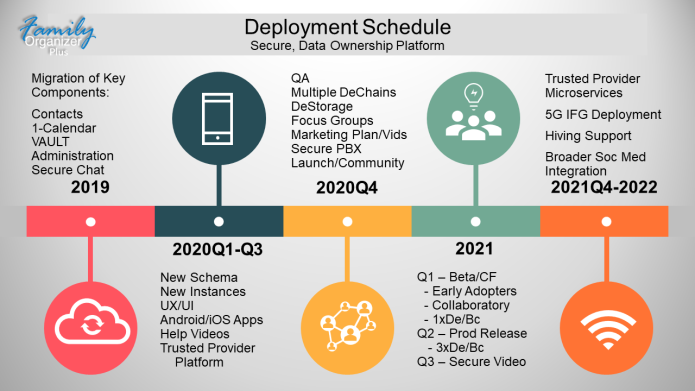 The Impact
Family Organizer Plus is the first consumer solution that truly empowers and ensures
individual data ownership by design based on the Presidio Principles published by the
World Economic Forum and emerging laws around the world, like GDPR and CCPA.
Discarding obsolete communication protocols from World War II used across the  Internet
today, new devices are coming to market with long-anticipated security.
Here are just a summary of the microservices available in

Family Organizer Plus

:
Trusted relationships with relatives, friends, and providers, like teachers, accountants, lawyers, and healthcare workers.
Communications that are not monitored and recorded by third-parties, collected, analyzed, and sold to yet other parties.
Records Management of personal and important documents and media files, like estate plans, bills, long-term warranties, and precious photos, stored decentrally in the cloud and out of the hands of unintended, unauthorized, or unscrupulous people, safely beyond the reach of fire and water damage.
Password-free access that authenticates and authorizes your individual and family's access to important online services where trusted providers can store your records (which you own) in your personal and private data warehouse using blockchain.
Restoration of parental oversight, no longer disenfranchised by modern technology, enabling early intervention on social media abuse, related depression, and feelings of isolation that can lead to tragic consequences.
Thank you very much for your support!